2017 to 2019
The Cook's Daughter Show (WA Tour)
A boss storyteller and entertaining performer, Hazelton's songs have taken her from the dusty
Australian heartland to the urbane international stage. Her ability to engage is second-to-none as she sings songs
about her unique journey so far, with the not so secret aim to encourage everyone to sing more and talk less.
Tour
Be mesmerized as Lynn Hazelton and Lorrae Coffin (selected performances only; see event listing) perform The Cook's Daughter with open hearts, catchy tunes and a touch of comedy. This warming and uplifting show will take you back to yesteryear or remind us to enjoy the simple things in life and the times we make along the way.
Lynn Hazelton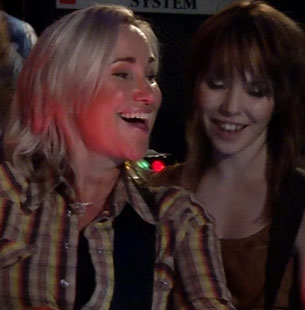 Raised on the Goldfields, fostered through Freo folk and finely-tuned by Kimberley country, Hazelton proudly hails from the one-horse town of Boulder WA not Colorado USA. Making up 'hums' as the barefoot kid of a station cook then moving on to a six stringer in their trusty caravan, she never dreamt her little tunes would get her on track to see the world. Since then she has notched up 16 commissions, 11 awards, 4 Stars in the Scotsman and a couple of Isa Browns in a pub raffle. She has played her way to the international stage through an invite to Edinburgh Festival with virtuoso guitar duo Desert Child. Producing and writing with upcoming artists like the inimitable Peter Brandy and songbird Jennifer Renee, she is passionate about growing community and connection whenever and wherever she can.
Lorrae Coffin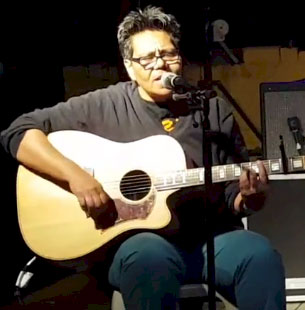 In 1993, Lorrae Coffin was one of the first to graduate from the "Aboriginal and Torres Strait Islander School of Music", commonly known today as Abmusic, who continue to nurture the aspirations of new generations of Indigenous Musicians. Born in Port Hedland and raised in Broome, she is a mother and grandmother and her cultural heritage derives from the richness of the Nyiyaparli and Yindjibarndi groups of the Pilbara in WA. Lorrae pursued a career in music and remains active in her art form as well as her involvement with Indigenous music strategies and policies. Her work has taken her on journeys across the country and around the world as a musician. Lorrae is one of the co-founders of the internationally acclaimed Marrugeku Company as a musician and co-composer and was recently instrumental in delivery the Ngaanyatjarra Music Strategy program across the Central Desert WA. Lorrae is based in Broome and continues to support and contribute to the WA Indigenous Music Industry. Lorrae plays in slected performances only. Please see the event listing.